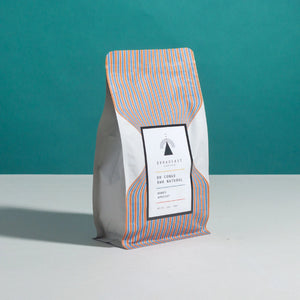 Producer: Rebuild Women's Hope 
Region: Idjwi Island in Lake Kivu
Process: Natural
Elevation: 1480-2000 masl
Variety: Red Bourbon, Blue Mountain 
Roast Level: Medium-Light
Tasting Notes: Apricot, Honey
--
Notes from the Roaster
In the middle of Lake Kivu, there sits the second largest island in the African continent, Idjwi Island. Because of its isolation in the lake, most national and international NGOs are unable to provide the same kind of aid to this geographical region. According to Marcelline, the founder of Rebuild Women's Hope, this means that agriculture occupies a prominent role in the emancipation of women on Idjwi. In the past, women have not benefited from the same work as men due to discrimination on many levels, from educational to economic, to social.
Marcelline says, "Men used to say that coffee was a sector for men, and not for women, but it is women who work all day in the field until the harvest, and when it's time to sell and market the coffee, the man takes care of it. As a result, income from coffee sales was not used for the benefit of the family, and was instead spent on the man's friends, beer, and polygamy until the money ran out. In the meantime, women were at home with their children, still needing to provide for all their needs in life. This situation displeased me and I told myself that we should fight for the causes of these women.
In addition, we found that the Idjwi-South had great coffee potential but that its people did not benefit or profit from it. Due to the lack of coffee washing stations, coffee was processed at home and smuggled illegally into neighboring countries by boat, which resulted in loss of coffee and of lives (from drowning).
These are the striking facts that pushed me to say that I could try to help a community where there was record-breaking violence against women's rights."
Around 250 women from the cooperative benefited from income-generating training, which allows them to take care of themselves during off-season periods. RWH organized the following trainings: how to grow market gardening; literacy courses; business skills; and how to make and sell soap.
During the coffee season, female cooperative members come to work every day and are able to earn a living. For example, some use the funds to pay for their children's school fees; others build or improve their houses.
The general population has benefited from adding a potable drinking water supply, and this has reduced infectious diseases. Women used to wash and drink water from Lake Kivu.